Everyone Deserves a Chance to Play
"We gain strength, and courage, and confidence by each experience in which we really stop to look fear in the face… we must do that which we think we cannot." ~ Eleanor Roosevelt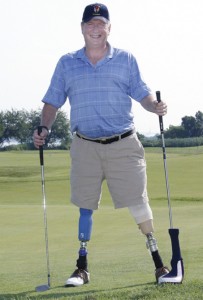 Welcome to The American Disabled Golfers Association. The ADGA is a non profit 501c corporation created with the intent to help all disabled golfers who elect to play the game. We know golf is a game enjoyed around the world that should never be limited to only non disabled individuals. With this being said, the ADGA is doing its part to help educate golf club owners, managers, teaching professionals, club manufacturers and industry partners regarding the importance of the needs of disabled golfers. The ADGA has partnered with many golf courses throughout the nation. And with the help from WGTF and PGA professionals, golf course managers and golf course owners, we continue our quest of making golf accessible to everyone.
The American Disabled Golfers Association provides opportunities for disabled golfers. We do this not only with the help of our sponsors but also by conducting nationwide events that raise money for this cause. If you would like to conduct an annual tournament event at your facility to help promote the American Disabled Golfers Association, please contact us at info@usgtf.com.
United States Disabled Open
A world-class tournament for disabled golfers from around the globe.
THE STAND UP AND PLAY FOUNDATION
       The Stand Up and Play Foundation was formed to help wheelchair users and other people with impaired mobility have the opportunity to stand up and participate in sporting, artistic and other daily events.
For more information on The Stand Up and Play Foundation, please visit www.standupandplayfoundation.org.

Mission Statement:
The American Disabled Golfers Association helps to create handicapped accessibility to golf courses for disabled golfers. Furthermore we provide a variety of golf related benefits which help improve the quality of life and well being for the disabled.