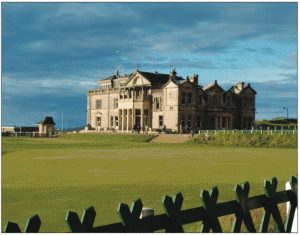 By Douglas Gray- USGTF Certified Golf Teaching Professional, Fife, Scotland
Whilst playing the Eden Course at St. Andrew son a fine spring day in Scotland, I was introduced to a prominent R&A member of some more years senior to me. He was in our four-ball, and his good friend informed me that George had been to every golf teacher under the sun, except Mr Leadbetter. A slight exaggeration, until I learnt more as our game progressed.
During an enjoyable nine holes, I listened to talk of 'Trackman', 'Hogan Fundamentals' and lots of teaching theories, as George had been trying to find the theory for many years. I distanced myself from this chat as I only 'input' when asked. Eventually, George asked, "Could you do anything for me, Douglas?" I replied very calmly, "I could sort you in ten minutes, George." I had planted the seed, and as we shook hands, George asked for my business card.
George was lacking some setup fundamentals, and one major swing improvement would help his progress. I was not overly confident of receiving a phone call, but my intuition proved me wrong. A few days later and George wanted to see me 'asap'.
As with all lessons, I establish the pupils' physical capabilities and any ailments that may be restrictive to what we want to achieve. Apart from two new hips, George was capable of working on what I had observed from our nine holes and the initial warm-up exercises that I had introduced. I never allow a pupil to hit too many balls in the warm-up. We want to groove the new stuff as soon as possible and not dwell on the problem. My prior knowledge of George's swing allowed me to explain what we had to work on from the outset.
George had very good shape at address, a good foundation base, but a little low from the sternum up. This indicated a low head position. George informed me that a recent teacher had told him to 'lift your chin'. I explained this would not help, as there was still no room to turn and that he should lift from his sternum, or as I say some-times and demonstrate, 'stand proud'. I also noticed during our nine holes and the warm-up that George had about a 10-degree shoulder turn, but my warm-up exercises showed that George had the capability and flexibility for a lot more.
Now, we all know for a right-hander we must 'turn our right side out of the way' on the back-swing, which allows the body to unwind on the forward swing. I explained to George that because of his lack of turn on the backswing, when he came to impact, he was replicating his address position. Invariably, George's club would 'bottom out' 2-3 inches in front of the ball, and the ones he connected with flew well to the right of the target.
A good demonstration paints a thousand words, and once George had watched me copy his swing and the resultant effect, it was easy for him to understand how we could progress. A few rehearsals and a few strikes and we were on our way.
At 90 years of age, maybe I forgot to mention that, but yes, George is 90 years young, but still has the desire to practice and improve. George's eyesight is not the best, but a couple of times he commented that some of his shots were starting right of the target and coming back to the centre. Need I say more? We were on the right track, without 'Trackman'. George also informed me that a recent teacher had discussed 'one plane v. two plane' and the options for him! I was flabbergasted.
George now had a good feeling of ball/turf contact and a better clubface strike, even although he could not see the end result. I explained that we would see the bigger picture when we collected the balls at the end. This is an invaluable part of the lesson, as we saw excellent grouping and a consistent distance with the lesson balls. I use clean, quality balls for every lesson, and they are all marked with a Sharpie pen (lots of markings, Duffy Waldorf-style). During the lesson, George looked at his clubface and noticed that he was contacting the centre of the clubface, the Sharpie markings being clearly visible.
I pride myself with results, and George had progressed well with consistency of strike, which was paramount, and the resulting direction of his shots. All this was achieved without 'Trackman', 'Hogan's Fundamentals', or the need for 'one-plane v. two-plane swing analysis'. It frustrates me that fellow coaches fail to teach what is in front of them, and apply technology where it is not applicable.
Over the years, I have applied my knowledge of the swing, having an open mind, a willingness to learn, and am constantly working on my communication skills, all enabling me to give my best lesson ever, each time. That is why the WGTF will be the leader in golf instruction for a long time to come.
George enjoyed the lesson very much and we both saw tremendous improvement. "What's next, Douglas?" asked George, who is a retired doctor. My comparison was simple. I replied, "If I came into your surgery with an ailment, after a preliminary examination and subsequent diagnosis, you may prescribe some medication and schedule another appointment to ensure it was working. I have given you some of the medicine you need. Keep taking it and I will see you in two weeks."
Editor's note to American readers: As the author is from Scotland, the punctuation, spelling and grammar rules from that country were kept in the editing process.
Copyright © 2017 United States Golf Teachers Federation, All Rights Reserved
US Golf Teachers Federation 1295 SE Port St. Lucie Blvd. Port St Lucie Florida, 34952
(888) 346-3290
www.usgtf.com