These events are open to all members of the United States Golf Teachers Federation and World Golf Teachers Federation.
Northeast Region Championship
Click here for event details
Date:              June 9, 2017
Location:       Mercer Oaks East Golf Course – West Windsor, NJ
Andrew Pierson from Camden, NJ, claimed the USGTF Northeast Region championship played June 9 at Mercer Oaks East Golf Course in West Windsor, New Jersey, firing a 77 to edge runner-up Taiki Miyazaki of Hicksville, NY, by two strokes.
In division action, Kelly Platt took home the women's title with a 90; Doug MacMillan fired an 80 to take the 50-59 title over runner-up Alan Brown; Peter Palmisano shot an 87 to win the 60-69 division over Bruce Barnett, and John Ray edged Preston Browning in a playoff after both shot 87 in the 70+ division..
Past Champions:
2017 – Andrew Pierson
2016 – Bob Helm
2015 – Chris Carroll
2014 – Martin Nolletti
2013 – Ed Williams
2012 – Ed Williams
Southeast Region Championship
Click here for event details
Date:               July 29-30, 2017
Location:         GlenLakes Country Club, Weeki Wachee, Florida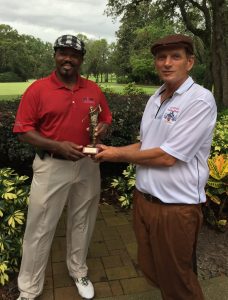 Melvin Blair of Tampa, Florida, opened with a 73 and cruised home with a final-round 76 as he captured his first USGTF Southeast Region Championship played July 29-30 at GlenLakes Country Club in Weeki Wachee, Florida. Defending champion Carlos de Barros of Lake Worth, Florida, and Mark Harman of Ridgeland, South Carolina, tied for second, four strokes back at 153.
Blair began his final round with two solid pars, only to birdie the third hole with a spectacular approach from almost 200 yards after his tee shot hit a tree. He carded a front nine 36 under threatening skies, and shot a back nine 40 as heavy rains plagued the field after the turn. Harman, who opened with a 75, struggled all day and limped home with a 78, while de Barros, teeing it up for the first time anywhere in a month, shot 75 the second round after a first-round 78. Rounding out top five were former Southeast and Central champion James Peters from Newport, KY, and Frank Mitchell from Boca Raton, Florida.
Fourteen players teed it up on the perfectly-manicured Ron Garl-designed private layout. Southeast Region director Mike Stevens served as the host and conducted the annual Southeast meeting during dinner Saturday night. The location of next year's event will be determined at a later date.
Past champions:
2016 – Carlos DeBarros
2015 – Jim Peters
2014 – Mark Harman
2013 – Mark Harman
2012 – Mark Harman
2011 – Carlos DeBarros & Mark Harman (co-champions)
2010 – Mark Harman
2009 – Mark Harman
2008 – Mark Harman
Central Region Championship
Click here for event details
Date:               August 4-5, 2018
Location:        Pine Knob Golf Club in Clarkston, Michigan
The 2018 USGTF Central Region Championship will be held at Pine Knob Golf Club in Clarkston, Michigan, on Saturday and Sunday, August 4-5.  The first tee time Saturday will be at 12:00 noon and 10:00 a.m. on Sunday.  The entry fee of $199 is for two days of golf, cart, range, prize money, and lunch after the Sunday round, with monies paid out on the gross and net two-day totals.  Practice rounds will be available after 1:00 p.m. on Friday, August 3 for $40.
Pine Knob is an upscale public course with 27 holes, tree-lined fairways, water, bunkers, great greens, and is an outstanding place to play.  Hotel deals will be available at the Olde Mill Inn of Clarkston (some may remember this location from the 2015 Kelly Cup), a rustic lakefront look with an up-north feel.  These rooms will go very very fast!  Participants will need to call (248) 623-0300 or go online at www.oldemillinnofclarkston.com to book.  One-person rooms start at $65, two-person rooms at $85 and January is not too early to book.
Clarkston is located 45 miles northwest of Detroit right off I-75; a 75-minute drive from the Blue Water Bridge; 60 minutes from Windsor, and 90 minutes from Toledo.
2008 – Charlie Henry
2009 – Joe Janosky
2010 – Mike Sidlinger
2011 – Keith Dunkelbarger
2012 – Event Cancelled
2013 – Nate Deakin
2014 – Jim Peters
2015 – Jim Peters
2016 – Charles Henry
2017 – Matt Smith
Northwest Region Championship
Click here for event details
Dates and location for the 2018 Northwest Region Championship are coming soon…
Please contact USGTF Northwest Region director Bert Jones at consult1golf@aol.com should you have any questions.
Southwest Region Championship
Click here for event details
Date:                May 19-20, 2018
Location:         Ridgeview Ranch Golf Club – Plano, Texas
More details coming soon…
2017 Recap:
Craig Johanson of Dallas, Texas, outdueled Mike Henry of Roanoke, Texas, to win the USGTF Southwest Regional Championship at Ridgeview Ranch Golf Club in Plano, Texas, this past May 20-21. Both players finished the 36-hole competition tied for first at 150, with Johanson prevailing in the ensuing playoff. Kern Doucet of Opelousas, Louisiana, finished third.
Southwest Region Director – Bruce Sims bsimspro@hotmail.com, (214) 475-5168
Past Champions:
2017 – Craig Johanson
2016 – Bruce Sims
2015 – Cole Golden and Carlos DeBarros (co-champions)
2014 – Randy Beeney (Senior Division Champion) Walt Abraham (Super Senior Division Champion)