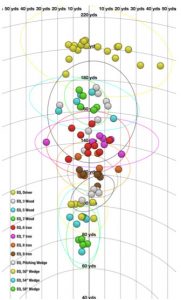 A company called Golf EQ bills itself as a "first of its kind" company. According to its website,
www.golf-eq.com
, Golf EQ "offers a way for golfers of all skill levels to find their best equipment for free." By inputting some performance metrics of the equipment, a golf "eq" score is generated. The higher the scorer, the better that equipment will perform for that individual.
Golf clubs are not the only thing tested. Push carts, laser range finders, gloves, balls, etc., have all been tested. The company stressed that their overall findings are not necessarily the best for each golfer but are the best for most golfers. For example, when it comes to clubs, there is a generic survey you can take, where current and desired results are entered, as well as launch monitor data that can be entered into another screen.
Is this the wave of the future? It's certainly an exciting innovation and one that eliminates confusion on what products work best, not only for the public at large but for each individual golfer. Once again, it's
www.golf-eq.com
. By Mark Harman, USGTF Course Director