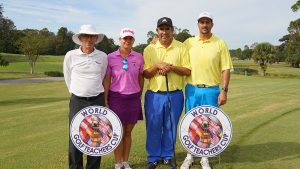 By Mark Harman, USGTF Director of Education
Our great game of golf has always engendered the competitive spirit in its practitioners. The Open, formerly known as the British Open, is the longest-running formal competition in golf history, but players and clubs competing against each other existed long before. Today, a lot of money exchanges hands on golf courses all around the world. It has been noted that in peak golf season, it is likely that over $1 million is wagered daily among friends on American courses!
Competing gives us insight into how we ourselves may handle certain situations. In a tough spot, do we panic and hope for the best? Or do we calmly assess the situation and make a logical game plan to execute the next shot? Are we internally calm or are we overcome by anxiety? Does the guy who bombs it by us 50 yards off the tee intimidate us, or do we consider it a cool and fun challenge to overcome that distance deficit?
The USGTF provides several great ways to compete for its members, from the five annual regional events to the United States and World Golf Teachers Cup. Players come literally from all over the world to compete in the latter two events. While the main focus is on the competition itself, a side benefit it making new friends, catching up with old ones, and potentially developing business and networking connections that can benefit our teaching business.
Many golf teachers say they don't have the time to compete, but it's really a matter of making it a priority and scheduling well in advance. So come on out to a regional event or the U.S. Cup this year. You'll be glad you did. And speaking of the U.S. Cup, it's in Las Vegas this year, October 18-19. By then, America's capital city of fun and excitement should be ready for full-bore action and activities. We look forward to seeing you there!