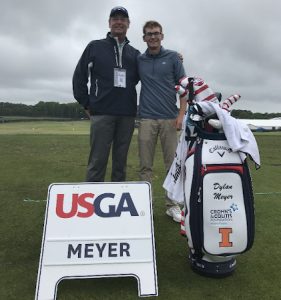 In nearly 35 of teaching, I have had five students who were gifted enough to play golf professionally, and really two who could be successful at the highest level. One of them is Dylan Meyer. I knew in five minutes that he was going to be special. At the age of nine, he had the ability and instincts that surpassed most players.
We immediately set upon a course of practicing with the big picture in mind. Practice sessions were shotmaking discussions about the shots needed to play golf at the highest level. Curving the golf ball, trajectory control, short game maturity and lag putting all are priorities. To win a golf tournament, a player must develop an advantage over the field, something he does better than anyone else. Dylan's forte is accuracy, especially with the driver.
Dylan was an All-American three times at the University of Illinois. He shot 64 in his first team practice and won his first tournament, one of seven collegiate victories. He also won the Western Amateur and made the final eight in the U.S. Amateur. He rose to #1 amateur in the world in the Golfweek ranking, and #2 in the USGA ranking. His first professional tournament was the U.S. Open at Shinnecock Hills, where he had a top 15 finish. Now, he is working his way up the professional ranks and recently played in the PGA Tour event in Puerto Rico.
Michael Wolf – USGTF Teaching Professional