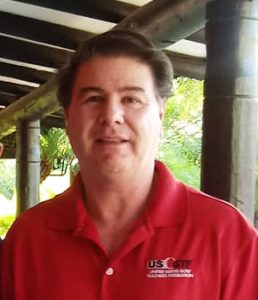 He's the longest continuing USGTF employee in the organization's history, and says he's fortunate to know so many great members over the years. For Mark Harman, it all started in 1991 when he was an examiner at one of the very early certification courses held in Lehigh Acres, Florida. Two years later he became the USGTF national course director (now director of instruction), a position he's held ever since.
Harman took up the game at age 12 and dreamed of a professional playing career. But the game came hard for him, and in his final year of college golf his scoring average was 80.1. He took a job in the business world as a finance collector and computer programmer, but golf was never far from his mind. He played virtually every day after work and on the weekends, and worked his way down to a scratch handicap. Through a mutual friend, he met Geoff Bryant, founder of the USGTF and at the time owner of the Florida Golf School. Bryant took a chance on Harman, and the rest, they say, is history.
Harman continued to work on his game in the meantime with several professional accomplishments, including winning the United States Golf Teachers Cup seven times. He also considers himself a rules geek and has gone through the USGA rules class, and is a frequent contributor to USGTF publications. Today, in addition to his work for the USGTF, he teaches at a PGA Tour Superstore and at Southbridge Savannah Golf Club in Georgia. This fall, he will once again serve as tournament director for the U.S. Cup, and looks forward to seeing everyone after a year's absence.