The  USGTF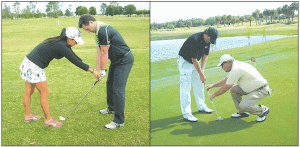 was  founded  in  1989  by  Geoff Bryant,  who  to  this  day  remains  CEO  and president  of  the  organization.  Geoff knew that a lack of qualified and personable golf teachers abounded and he set out to do something about it. He recruited the best teachers in his golf school operation and created a   curriculum that would ensure  a   good  education  to  those  who  came  to get  certified.  With tweaks over the years to keep up with modern teaching trends, the USGTF offers a comprehensive golf teachers training course that allows new members to impart their knowledge.
There are currently three categories of USGTF membership being offered:  Associate Member, Certified Golf Teaching Professional®   and Master Golf Teaching Professional®. Exactly what do each of these certifications mean? An Associate Member has completed the academic curriculum and has the ability to give a competent lesson to an average player. A  Certified Golf Teaching Professional – our fully-certified  level  –   has  also  passed  the  Playing Ability Test and has the ability to give a  competent lesson  to  an  above-average  player.  And a Master Golf Teaching Professional has the ability to give a competent lesson to all levels of players.
This  doesn't  mean  that  once  someone  attains Master  status  that  they  no  longer  need  to  keep learning  or  improving  their  abilities.  On the contrary, this is where the journey is just getting started!  As  John  Dana  said,  "Those  who  dare  to teach  must  never  cease  to  learn."  Which  means that  as  long  as  we're  involved  with  teaching  the game, our quest for greater and more knowledge must be ongoing.
An example of this would be the swing methodology of the late Moe Norman. Moe used what is described as a "single-axis" swing, where the line formed by his left forearm and club shaft, for all practical purposes, never changed. Teaching Moe's  swing  is  not  part  of  the  official  USGTF curriculum,  but  it  would  serve  members  well  to learn something  about  it.  Likewise, a method called "stack and tilt," developed by Mike Bennett and Andy Plummer, is worthy of study by USGTF members.  Curiously enough,  a similar  method called  "single  pivot"  was  developed  by  USGTF member  and  former  examiner  Randy  Cason,  in which the player pivoted around his lead leg and hip on  both  the  backswing  and  forward  swing. While there are some differences between stack and tilt and single pivot, both can be used to good effect by players whose swing tendencies may not be suited for the more conventional model that we teach.
In  the  last  issue  of  Golf  Teaching  Pro ,   Dr. David Wright wrote about his swing discoveries in his  methodology  called  Wright  Balance.  In over- simplified terms, Wright Balance recognizes that there are three core regions, one of which a player will be the most dominant in. Lower-core players feature a strong grip and more rotated hips through impact.  Upper-core players feature   a weaker grip, less-rotated hips and they come out of their posture. Middle-core players are a hybrid of both, and the majority of tour players are middle-core players. Studying Dr. Wright's principles will give any teacher a greater understanding of why certain players do certain things.
The  quest  for  more  knowledge  can  also  be successful  by  taking  advantage  of  the  USGTF's extra-curricular  educational  materials,  available through the USGTF Pro  Shop. In 2018, the USGTF also held online educational webinars, answering a demand for continuing education programs. Look for more in 2019.  The  advantage  of  webinars  is that they can be done in the comfort of your own home  without  having  to  travel  hundreds  or  even thousands of miles to access the information.
There are also resources online that are available to teaching professionals. The Facebook group Golf Teaching Professionals, while not affiliated with the USGTF, is open to all who teach the game. But be forewarned that there are some teachers  in  the  group  who  are  heavily  into  the science of the game and will talk in terms that are beyond the realm of most teaching professionals, even the highly accomplished ones.  Gaining more knowledge   about  teaching  doesn't  necessarily mean you have to know what terms such as "275% peak  vertical"  or  where  "P6"  is  in  the  swing,  but there  is  some  good  information  otherwise  in  the group.
As golf marches on into the 21st century, the game and its teaching continue to evolve. Staying  ahead  of  the  curve  is  imperative  if  we  are  to  be successful going forward.