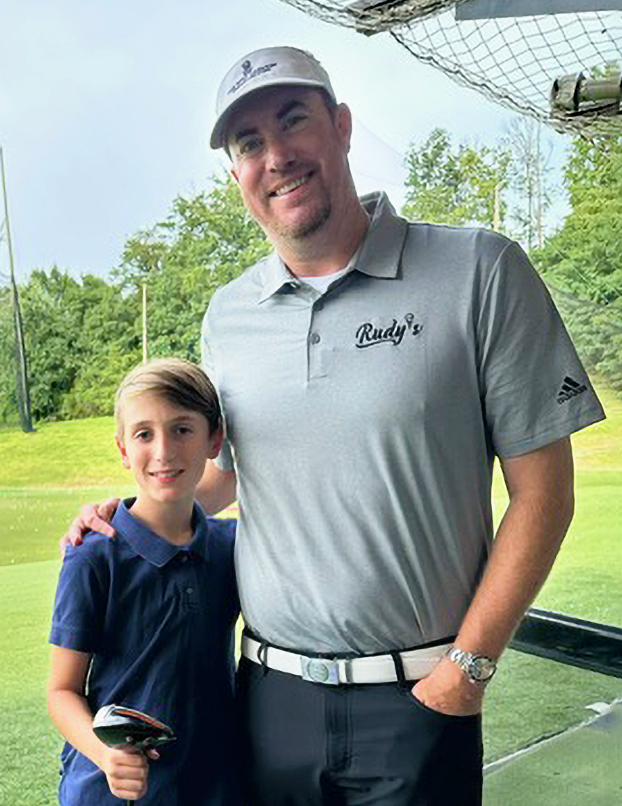 By Sean Moore, USGTF, Alexandria-Virginia
Throughout my career in athletics and golf, I have had the privilege of working with numerous talents of all ages and genders. One of my first students when taking over as director of golf at Rudy's Golf and Sports Bar in Alexandria, Virginia, was a young man named Cooper Fischer. He was an 11-year-old that was very new to golf but had tremendous experience in soccer. He wanted to give golf a try and was incredibly shy and unsure of what the future held for him in the sport.
We began our journey together once a week and truly started from scratch. We wanted him to eventually gain enough skill sets and confidence that he could play with his uncle and father. Cooper quickly began to show improvement, but more importantly, he started to get that sparkle in his eye when we worked together as you could see he was beginning to love the sport. Cooper was persistent in his pursuit to not only improve his swing, but he thrived on learning about course management, terminology, history and the people that have paved the way for golfers of all ages. With the support of his entire family, Cooper developed a tremendous swing and has built his confidence as a young man. He hits the range two or three times a week, including his structured lessons, and now reports back to me weekly regarding his strengths and weaknesses from his previous sessions.
Cooper and I have built a tremendous friendship as instructor and student. We grind on the range together while sharing a bag of sour gummies or a basket of fries. His post-lesson tradition: to sit with his family and have the famous grilled cheese from Rudy's Golf. The Fischer family has not only supported their son and his drive to be a better golfer, but they have embraced the lifestyle. Cooper's dad has also found a new spark as well and is excited about sharing the game again with his son. Cooper and I will continue to work together, and he may choose to try competition at some point.
However, in my eyes he has already won. He discovered the sport we all love so much. He's improved his swing, his knowledge and his confidence. He is a tremendous example of hard work and commitment. He reminds me every week of why I choose to teach golf for a living, and I can't wait to see the things Cooper is able to accomplish on and off the course.
With a last name like "Svensson," you would be forgiven to think the PGA Tour's latest winner came from a Scandinavian country. Not exactly, although his hometown of Surrey, British Columbia, oftentimes has the same winter weather. He always excelled at golf, winning the Canadian Boys Junior Championship in 2012. Svensson matriculated at Barry University in Miami, Florida, where he once again excelled. He won nine tournaments, was twice the NCAA Division II individual champion, and was a first-team All-American. He turned professional in 2015, and in 2018 won on what is now the Korn Ferry Tour. He earned his PGA Tour card for 2019 but lost it, only to regain it for the 2021-22 season. His victory in November's RSM Classic in Georgia is a continuation of his rise in golf. Svensson's career has been on a steady upward trend ever since he first picked up a club. It is likely this trend will continue for years to come.
Mark Harman from Ridgeland, South Carolina, has been named the new USGTF Southeast Region director, taking over for Mike Stevens who retired from the post earlier this year. Harman plans to have this year's Southeast Region championship in Florida sometime in February, tentatively during the week of February 19-25. He asks that anyone who wants to get on the Southeast Region mailing list to write to him at mark@usgtf.com to receive updates.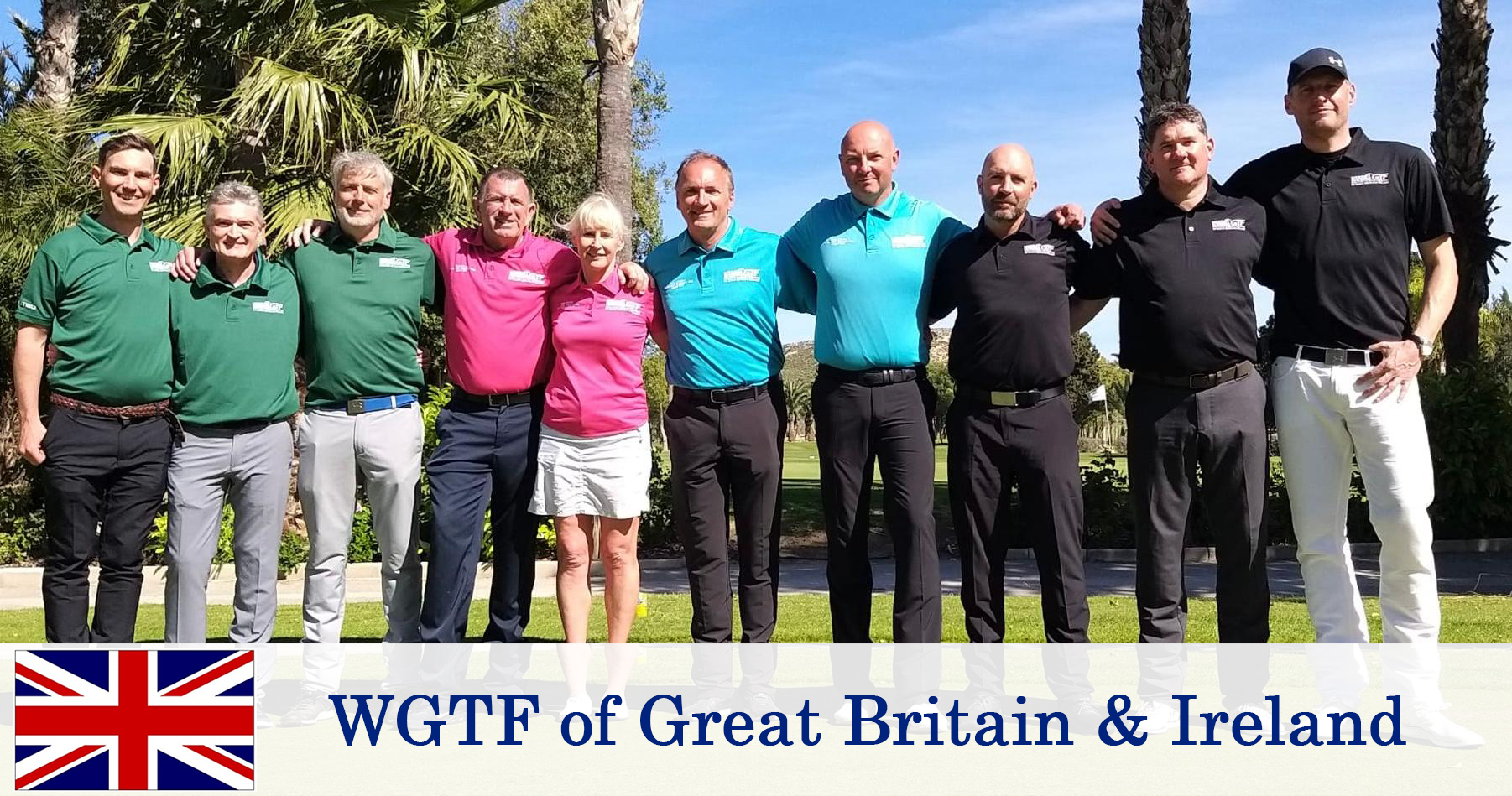 By Peter Hudson
Director
WGTF Great Britain & Ireland
The year 2022 continued to see massive growth in the WGTF of GB&I and all its subsidiaries. Some of our goals may be limited if governments around the world do not come to terms with practical elements caused by the pandemic, but for everyone, it will remain an opportunity to build stronger resilience and discover more effective solutions than ever before.
The interest in those wanting to help others play much better golf has also been on the increase, and we have managed two residential trainings this year. Three of the coaches attending have already started to coach. Participants have included an ex-tour player, international hurler, event manager, pro footballer, international independent adviser, plus many more, proving those who truly want to help others play better golf can appear from any walk of life!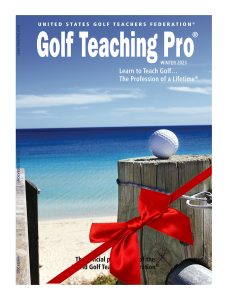 Golf Teaching Pro
, the annual official member publication of the USGTF and WGTF, will be mailed to all members in good standing this month, along with membership cards. The magazine is one of the most valuable resources available to USGTF members and includes information pertinent to every golf teaching professional, such as instruction, features and international news and happenings. Look for it soon.

By: Mark Harman, Director of Education "I'm not good enough to get fitted for equipment" is the mantra of too many golfers who wish to save money in purchasing golf clubs. The fact is (and I confess to hearing this elsewhere), better players can often find a way to make ill-fitting equipment work while the average player can't. In other words, the average player can't afford not to have fitted clubs. For me personally, I am very picky about my equipment as I can feel the minutest of differences. This comes from too many hours, days and years of trying to become a professional golfer back in the day, and my sense of feel was highly refined by this. Of course, properly fitted equipment can only take us so far. We and our students have to have a reliable-enough swing in order to make improvement and enjoy the game. Basic things we can do as teaching professionals is to examine our student's shaft flexes to see if they are a good fit. Although generally the slower the swing the more flexible the shaft should be, there are exceptions to this rule. The club must both feel good to the student and give him or her a reasonable belief they can develop a measure of consistency with it. This might lead to strange situations where someone with tour-like clubhead speed playing regular shafts and slow-swinging senior golfers playing stiff shafts. Such scenarios are rare but they do happen, so keep an open mind. We can also check if the lie angles on the irons are correct by examining the divot patterns. Many golfers' divots will be toe-deep, indicating a lie angle that is too flat and thereby promoting an open clubface at impact. If you teach indoors, a lie angle hitting board and some lie angle tape will do the trick. In closing, while properly fitted equipment is important, it is also only one part of the improvement and enjoyment equation.

Longtime USGTF Partner, Budget Rental offer USGTF members and friends great savings and offers any time they travel – anywhere! Simply use the USGTF special BCD (Budget Customer Discount) number D815100 when reserving your car online. Book today to start saving at
www.Budget.com
.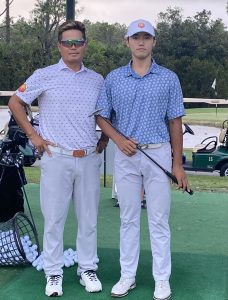 By Ken Kim, USGTF Master, Davenport, Florida My golf academy (Team J.K., Inc.) has trained 47 established tour players currently all over the world since 2004. Jun Choi (Beomjun Choi) is a playing professional originally from South Korea. His main goal is to play professional golf on the PGA Tour. Choi now travels all over the States in playing on the APT, FPG and GPro tours. Chio went to the Korn Ferry Q-School for the first time in 2022. He successfully passed the pre-qualifier in fourth place, shooting -12 for three rounds. He is currently based in Orlando, Florida. He is coached by myself (PGA Professional and USGTF Master Golf Teaching Professional) and June Lee (LPGA Class A Professional). The main focus is on his swing, short game, putting and mental prep for tournaments. Choi has increased his clubhead speed from 114 mph to 125 mph in three months, consistently hitting over 176 mph in ball speed. However, he also has great touch in his short game. He practiced relentlessly for hours in order to improve his skills and his understanding of fundamentals. His self-motivation and tenacity are what allowed him to get better every month, and not because of a set platform of training. It was his heart desiring more and his self-discipline to work for it. Often, we discuss biomechanics and how is it different from the kinesiology, or the advantages and disadvantages of a quantitative biomechanical analysis. Jun truly has an understanding of how things are working. This kind of character is rare in today's tour player, and I am confident it will benefit him on any professional tour, that includes the PGA, KPGA, or Korn Ferry tours. Choi will not become apathetic, but will unceasingly search to improve himself and keep moving forward to become a PGA Tour player.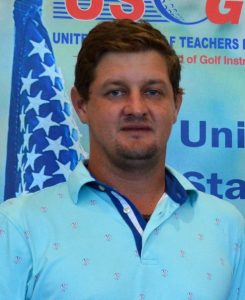 By Ben Martin, USGTF Member, Trinidad I got into golf at the age of 5. I grew up near the St Andrews golf club in Trinidad. My dad started me with one club and the rest is history. I have a deep-rooted love and passion for the game of golf. It is a big part of me and my life. My main golf inspiration was Tiger Woods. He took the game to the next level and was amazing to see what he achieved in his career. The amount of records he set and broke sets him apart from the rest! Our local hero in Trinidad is Stephen Ames, who has also done a lot for myself over my teenage years. I will be forever thankful for the help I have received over the years. I am a coach at St. Andrews Golf Club in Moka, Trinidad. I also play as often as I can because that is what gave me my love for this game. I hope to play in as many events in the future as I can. It was a pleasure coming to meet the USGTF crew, and even more of a pleasure to be the Open champion with a record-breaking score of -12 for two days. (Editor's note: At just 14, Martin represented Trinidad and Tobago on the men's national team, being the youngest player ever selected. After having a very successful amateur golfing career in Trinidad and around the Caribbean, Martin went on to play in some of the biggest amateur events around the world in countries such as the United States, Canada, South Africa, Peru, Puerto Rico, England, Scotland and Spain in an attempt to further his golfing career. Martin has also won many professional championships, including being a six-time champion of his country's national championship, the Trinidad and Tobago Open.)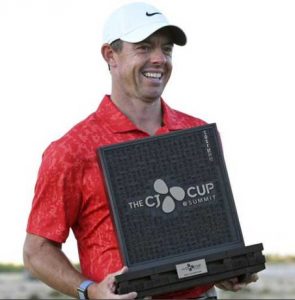 Scottie Scheffler had a year to remember with four victories, including the Masters, and an extended reign as the #1 player in the world. The latter came to an end in October when Rory McIlroy recaptured the #1 ranking after winning the CJ Cup in South Carolina at the Congaree Golf Club in Ridgeland. Congaree itself is an extremely unique course in the United States, more akin to the Australian Sand Belt courses that proliferate in that country. The links-type golf required to play Congaree suited McIlroy perfectly, as he often played true links golf growing up in Northern Ireland. McIlroy was among the leaders the entire week, taking a one-shot lead over Kurt Kitayama and K.H. Lee into the final round. McIlroy shot 67 on Sunday to edge Kitayama, who also shot 67, by a stroke. After winning four major championships in a four-season span, the last coming in 2014, some predicted McIlroy could threaten Jack Nicklaus' record total of 18 majors. However, he has failed to win another major since then, puzzling most observers because he continues to win at a high rate. Few doubt that McIlroy will win more majors. The only questions are when is the next and how many more will he win.
Southeast
, Tampa, Florida: Champion – Ron Cox
Northeast
, Ewing, New Jersey: Champion – Steve Pezzino
Central
, Mason, Ohio: Champion – Ron Cox 
Southwest
, Allen, Texas: Champion – Ron Cox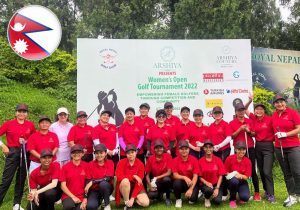 By Sachin Bhattarai, USGTF Member, Kathmandu, Nepal During 2022, the game of golf has advanced significantly in Nepal. The ladies' captain of our club organized the Nepal Women's Open Golf Tournament for the first time this year. The competition has also boosted female golfers' interest in the present day. Due to the event, I genuinely believe that we may find more female golfers in the next few days who will be competing in more matches and tournaments. Not only are female golfers interested, but for the first time our academy has also begun offering regular golf lessons where nearly 120 students are interested in the sport and want to develop their golf knowledge. Similar to that, the scramble junior golf competition was also arranged by the club president of Royal Nepal Golf Club this year, and the junior event's competitors displayed a great deal of enthusiasm. I want to create more teaching professionals and new golfers in the upcoming days. I will do my best to train Nepalese golfers and strive to turn them into teaching professionals there, much like how the USGTF taught golf teachers around the world and made them teaching professionals.
Sunny skies, warm temperatures and a golf course prepared to professional standards greeted participants of the 26th annual United States Golf Teachers Cup, held October 24-25 at Plantation Preserve Golf & Country Club just outside Fort Lauderdale, Florida. Champions were crowned in four divisions.
Open
– Ben Martin from Trinidad and Tobago won with an 11-stroke victory over runner-up Ken Kim with scores of 67-65 – 132. Martin's final score set a record for lowest total in a U.S. Cup, breaking Dave Belling's record from 2014.
Ladies
– Heidi Aittama from Lakeland, Florida, took home the Ladies division trophy with scores of 75-74 – 149, defeating runner-up and former champion Trish Buecher.
Senior
– An exciting back-and-forth battle that saw four different golfers leading in the final round culminated in Michael Wolf from Evansville, Indiana, coming out on top. Wolf had scores of 71-69 – 140 to win by two over runner-up Kirk Junge.
Super Senior
– Ron Cox from Nashville, Tennessee, continued his winning ways by shooting 72-68 – 140 to win by 13 strokes over runner-up Jerry Ellstrom. Cox's margin of victory was the largest of any division in U.S. Cup history. Cox has also won the last four USGTF regional championships he has played in. Complete results can be found at
www.USCup.GolfGenius.com
.

It is important for all USGTF members to remain in good standing, as they have the right to publicly identify themselves as USGTF members, along with enjoying many member benefits and amenities. Member renewal notices have been sent to all current members, so check your mailbox. You may also keep your membership in good standing by visiting 
https://www.usgtf.com/renew
.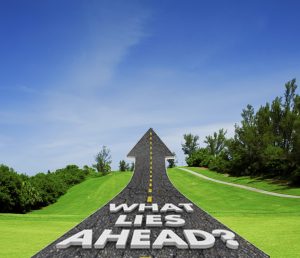 By: Mark Harman, Director of Education Would Harry Vardon recognize today's game if he could be magically transported to 2022? While some things would be the same, others would be so vastly different that Vardon might well wonder if it's even the same game. Things used to change slowly in golf, but with the dawn of the 21st century, things are picking up at a rapid pace. Where once new technology took years to embrace, today's players and coaches are quick to adopt a change if it is demonstrated to be beneficial. You would be hard-pressed to find a modern tour player who does not have a TrackMan or GC Quad – or in many cases both – to analyze their ball flight and club data to the nth degree. Experts in analytics crunch the data and lay out very specifically where players need to improve. Training regimens continue to evolve as the latest research comes in. The game of professional golf was shaken up in 2022 by the advent of the LIV Tour. Whether this tour can survive without a visible means of revenue remains to be seen. In response, the PGA Tour upped the purses dramatically for its marquee events and obtained pledges from its top players to play more golf. A tournament purse of $25 million would have been unthinkable just a few short years ago…and imagine what Vardon would think! But do not be surprised if, within the next decade, a tournament purse of $100 million is offered. So, it seems the game of professional golf, at least on the men's side, will continue to see escalating purses. When it comes to teaching, almost certainly within the next decade every full-time teacher will have much of the latest technology available. There will still be teachers who go to the lesson tee with nothing more than their smartphone to take video, but they will usually be the club pro or someone who gives lessons only occasionally. Finally, the USGA and R&A have made a big deal about reigning in distance, or at least preventing future increases. Their problem is that today's professional golfer is a true athlete who trains and is larger and much stronger than their counterparts of yesteryear. Whereas Dan Pohl led the PGA Tour in driving distance in 1980 with an average of 274.3 yards using a persimmon driver and balata balls, today's longest players would probably still approach a 300-yard average with such implements. All indications are that the USGA and R&A will finally adopt one set of equipment rules for the pro game and elite amateur competitions and one for play at the club level.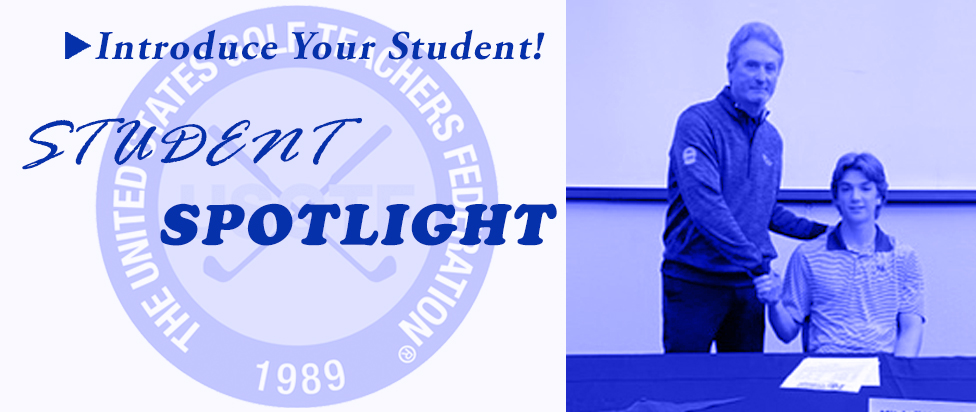 USGTF members who have students notable for their achievements, accomplishments, or even notable progress, are invited to submit their stories for consideration in the monthly e-newsletter. A picture of the USGTF member along with their student will also be featured in the item. Submissions may be made at
info@usgtf.com
.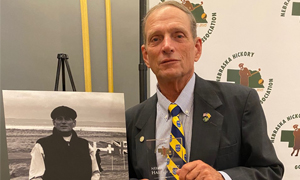 Mike Stevens has been a USGTF member since 1995 and was formerly the Southeast Region director. He resides in Tampa, Florida, where he operated On Target Golf Schools at MacDill Air Force Base Golf Course for many years. The schools were a unique model in that they involve 6-week sessions of one hour per week, and the concept was very successful, as several other USGTF members also adopted that model. Stevens has always been devoted to the history of the game, and almost two decades ago he made the move to play exclusively with hickory-shafted clubs. He has won several tournaments, notably the Southern Hickory Four-Ball, and also the prestigious National Hickory Championship three times. When competing among his titanium-wielding peers, he more than holds his own. He was recognized as one of Florida's top ten instructors by Florida Golf News and also as a top WGTF Teacher. In 2011 he was inducted into the USGTF Hall of Fame at Orange County National in Orlando, Florida, during the World Golf Teachers Cup. A native of Ohio, Stevens hold a Master's degree in Human Resource Management. Stevens recently retired from teaching and as the USGTF Southeast Region director to spend more time with his family and grandkids, and to hone his game. He is still active in the hickory golf scene and will once again run the U.S. Professional & Amateur Hickory Golf Championship this coming February at Temple Terrace Golf & Country Club in Tampa. He also runs the Florida Hickory Golfers group that holds events monthly. Stevens also competes annually in the World Hickory Open in Scotland.