By Arlen Bento Jr. USGTF Member Jensen Beach, Florida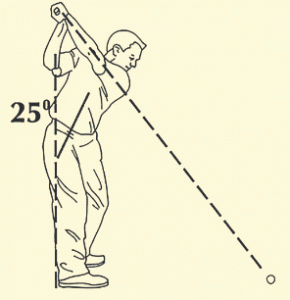 One swing required with 25 Degree Golf!
Have you ever asked yourself why golf irons are made the way they are? Why are lofted wedges shorter than the lower-lofted long irons?
What if I told you that your traditional sets of irons are wrong and that there is a much better way to play golf? Would it perk your interest? If yes, then you are going to find this article very interesting.
Here's my background, in case readers don't know me: My name is Arlen Bento Jr., and I am an award-winning golf coach and WGTF Top 100 Teacher. I have been contributing articles to the USGTF for nearly 20 years and I own and operate a golf instruction and internet marketing empire in Stuart, Florida. (Well, it's not really an empire.) I am the former head golf professional at PGA Country Club in PGA Village, Florida, and I have multiple national awards in the golf industry.
About a year ago, I was introduced to an idea that I had actually used when I first started playing golf as a professional – single-length irons! The concept of single-length irons, one ball position and one swing plane made a lot of sense to me. At the time, I played a set of Tommy Armour EQL irons and loved them. I was playing good golf and started to take them to my events, and got ridiculed by my contemporaries. They made fun of me and said my game was no good and that is why I needed single-length irons; it was cheating because no one else had a set made that way. Alas, I was young and succumbed to peer pressure, and went back to a set of forged blades like I was supposed to play. I can't believe I did that as I don't consider myself a follower, but I did.
Fast forward to 2016. Bryson DeChambeau explodes on the golf scene playing – guess what – single-length irons. Now, before you start jumping ahead, thinking that this article is just about single-length irons, stop. That is not what this article is about; well, not entirely. It's more about how I got the idea that I am going to share with you.
My idea is called 25 Degree Golf!
I was involved in a project and was working on a concept designed to stand up golfers in the setup position. The idea was simple: Why bend over and put your body into a completely non-athletic position? Nobody walks around in comfort bent over 45 degrees, like many people are in the golf swing.
So many professional and avid golfers are suffering from aching backs and injuries that can be attributed, in many cases, to lower-back stress because of the golf stance and the swing that it creates. The problem is that it was impossible to get students and players into a more athletic and upright spine-angle position with traditional golf irons, because their irons were just too short.
Your irons are too short!
So I asked myself, why? With a traditional set, all iron heads have different weights designed to work with different-length shafts. Lofted irons have heavy heads to make up for shorter shafts; less-lofted irons have less head weight to make up for longer shafts, and that is just how they are done.
I started introducing some of my students – the ones that had been losing distance, not making solid contact, no accuracy, and most of all, sore backs – to longer single-length irons.
All I did was make their lofted irons the same length as their 4-iron, and pow! Lightening in a bottle! More distance, solid contact, more accuracy, less back pain and better golf.
I had students take out trial clubs and come back raving about 180-yard 6-irons and being able to reach par-3 holes with a 9-iron for the first time in 20 years. What really got my attention was all the students that I put into these single-length longer irons came back to see me with an incredible result: They picked up distance with their driver!
I scratched my head about this for a month. I looked at their swing videos before I made their irons longer, and then after I made their irons longer. It hit me like a ton of bricks.
Their spine angle was staying in the same place! There was very little difference between their spine angle with their irons and their driver, and for that matter, fairway woods. Because their irons were long, they maintained a similar spine angle, thus a similar swing plane, and a new confidence in the irons translated to better swings and more confidence with their drivers. Whoa!
As I looked at the swings, I noticed that each player had a spine angle of 25 degrees. So I named my concept 25 Degree Golf. I knew I was on to something, but I needed better equipment. I knew that making heavy lofted clubs longer was making the club feel and play different. So I picked up the phone and called Cobra Golf. They were on board in five minutes.
Cobra had invested over $40 million in single-length iron technology and Tour superstar Bryson DeChambeau. They were thrilled to work with me, and now we are a partner with the USGTF.
For those of you that are thinking, this can't work, or the clubs will feel heavy, stop and think: Heavy compared to what?
Can't work because, why? I have found that motor skills are easy with a more upright spine angle. Concerns about chip shots and delicate shots are put to rest with choking down on the clubs for comfort. If you never played a round of golf with a traditional set of irons, would you even question a single-length set that was made to keep your spine angle in a similar position? The simple answer is no, you would not!
What you will notice when you create a 25 Degree Golf set of irons is much higher ball flight compared to what you were used to with a traditional set. You will see a lot more distance and will experience a sensation of not having to rotate your wrists as much in an attempt to square your clubface at impact.
With all your irons at the same length, your need to create shaft lean and a downward strike are minimal. You will hit the golf ball with effortless power and effective loft, creating high, accurate shots.
Worried about the wind? Just move the ball back in your stance and choke down on the clubs an inch or two and there you go.
Swing mechanics are very simple. All you have to do is make a full turn into the backswing (get your back to the target), which will keep your hands on a flatter plane, and strike the ball like it is sitting on a tee. You really don't need to get the club up near your head, but it works either way after just a bucket of balls. You will feel the club's face strike square and true while creating a feeling that the club is staying on your target line a lot longer than your traditional set of irons.
I know this might sound a little crazy, but I have been teaching golf for over 20 years and I remember pros calling Karsten Solheim crazy, Ely Callaway crazy, TaylorMade metal woods crazy, carrying four wedges crazy, big-headed drivers crazy, big-headed putters and hybrids crazy, Surlyn golf balls crazy – you get my drift!
All I know is that I have a lot of players asking for 25 Degree Golf irons. All I know is that people are telling me that 25 Degree Golf has given them back their golf games.
I hope you take the time to give this idea a chance. It might not be for everyone, but for some, it could be a game changer.
Arlen Bento Jr. is an award-winning golf coach, WGTF Top 100 world-recognized golf instructor, USGTF Master Golf Teaching Professional and entrepreneur. He is the former head golf professional of the PGA Country Club at PGA Village, Florida, and the former director of golf at Eagle Marsh Golf Club in Jensen Beach, Florida. Bento has three national golf operation awards in the golf industry, including two Golf Digest Four Star Awards and a Service Ace Award from Golf Shop Operations magazine. He offers golf instruction at his indoor golf studio in Stuart, Florida, and at the Champions Golf Club at Summerfield.
Bento is a proponent of skills-based golf learning, slow-motion golf learning, single-length golf irons and dynamic club fitting. He is the owner and operator of College Golf Pipeline, a college golf recruiting service that helps junior golfers find college golf scholarships, and co-hosts the Golf Talk Florida radio show. He can be reached on his website www.ArlenBentoJr.com, or by email at arlenbentojr@gmail.com. You can also give him a call or send him a text at (772) 485-8030.