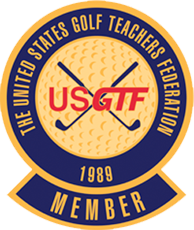 The Nation's Largest Organization of Certified Golf Teaching Professionals
The United States Golf Teachers Federation® trains and certifies golf teaching professionals. Established in 1989, it is the largest national organization of certified golf teaching professionals in the world.
The USGTF educational theme is that of progressive learning. We incorporate three levels of certification for the golf teaching professional. You may select one of the first two levels of certification in order to progress comfortably at your own pace (the third level is reserved for fully-certified USGTF members). We offer an online option (Associate Member) or a five-day onsite option (Certified Golf Teaching Professional®).
The USGTF Provides The Profession of a Lifetime®
The USGTF's certification course provides students with practical guidance skills and theories, as well as liberal arts and character training, through systematic golf theory training that golf leaders must equip through golf teaching methods and practical tests. In the golf industry sector, tour pros, instructors, journalists, golf commentators, professors, etc. are enabling key activities to lead the American golf industry in many areas.
Golf Teaching Pro® Magazine
Golf Teaching Pro is a professional magazine that keeps the members of the United States Golf Teachers Federation informed on the latest up-to-date teaching methodology, member benefits, tournament information and ongoing education. It is the official international member publication of the World Golf Teachers Federation and is distributed to all member nations and translated into many languages.
The publication circulation exceeds 35,000 each issue. For information on advertising, please contact info@usgtf.com.