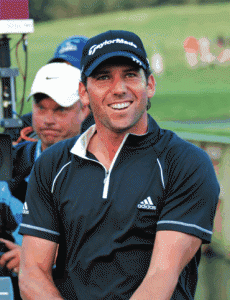 By Dr. Gregg Steinberg USGTF Member and Sports Psychology Consultant, Nashville, Tennessee
ACCEPTANCE – this was the key mental game ingredient that lifted the new Masters champion, Sergio Garcia, to victory.
In his younger days, Garcia would get upset when the bounces and breaks did not go his way. But as he matured as a person, Garcia stated that he learned to accept what Augusta National gives you and takes from you. This acceptance gave him peace of mind to handle the pressure and win his first major in 74 attempts.
Acceptance is key for any profession. There are always going to be bad weeks with a few bad breaks. But there will also be a turnaround with fortunate twists of fate. Life is full of peaks and valleys. The biggest problem is when we don't accept an inevitable valley in our life.
When those downward patterns occur, some people lose their resolve. Others panic or begin to doubt themselves and lose faith in their abilities. Some people begin to overthink and believe their way of doing the job is completely wrong. In many cases, this negativity of thought turns into a nasty slump.
Be like Sergio Garcia. Accept the times when you are struggling and learn to go with the flow. Don't start overanalyzing your strategies and lose confidence in your past successes. Behind every successful person are times of repeated failure and feelings of despair.
More than 150 years ago, Charles Dickens knew this to be the human condition when he wrote the memorable words, "It was the best of times, and it was the worst of times." Your business life will cycle with many twists and turns. Don't let a valley throw you off course. There is great wisdom in the principle of acceptance.
Topics such as acceptance to help you succeed can be found in the Emotional Toughness University online course (go to www.EmotionalToughnessUniversity.com). Please go to the site for your free emotional toughness e-book as well as free videos and articles.
(Dr. Steinberg is a professor of human performance at Austin Peay State University in Clarksville, Tennessee, and is also the USGTF's longtime sports psychology consultant. This column is adapted from his Washington Post bestselling business book Full Throttle. Dr. Steinberg speaks to businesses about mental and emotional toughness. Email him at mentalrules24@msn.com or see www.DrGreggSteinberg.com.)