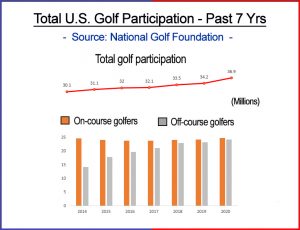 Golf saw a resurgence in 2020, and the numbers back that up. According to the National Golf Foundation (NGF), the total number of rounds played increased by 14% last year – a record one-year increase. As COVID-19 forced people to take inventory of their lives and with many indoor entertainment options shut down, golf became a beneficiary. Not only did beginners become fascinated with the game, but many people returned to the game after years-long absences.
The NGF notes that the number of rounds played per year always fluctuates in the 2-3% range, mainly due to weather. So, a double-digit increase in rounds played, despite many courses being closed for months, means that once courses were open, it became hard to find a tee time at some places. And that's a good thing! Teaching pros also took advantage of this surge in golfers as lesson books became filled. Anthony Benny, one of our fine members in Trinidad & Tobago, noted in the last issue of Golf Teaching Pro that his schedule is more filled than ever.
I know that where I teach, I have had no shortage of lesson-takers. Will the interest in golf continue? It will if the industry as a whole gladly welcomes all to play, and we as teaching professionals have an important role, too. Instead of saying the game is hard – how many times have we heard that? – we need to stress how fun it is to play. Our lesson programs can go a long way in retaining these players for the long haul.
By Mark Harman, USGTF Director of Education