By Mike Stevens USGTF Contributing Writer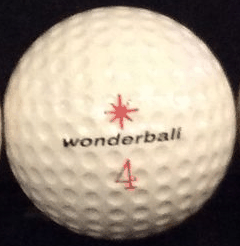 I love it when I stumble across something that instantly floods my brain with fond memories of youth. In my basket of range balls, I came across an old golf ball. People are always hitting their old balls on the range trying to get in a few extra shots for free. Just looking at the dimple pattern, I knew it was old, a Wonderball #4 from the Worthington Golf Ball Company of Elyria, Ohio. Now, I doubt that many players today would recognize this brand. However, to a young lad who had to scour the woods and ponds of local muni courses be-cause he was forbidden to raid his father's golf bag for those precious white orbs, they were a blessing. But that is a whole other story. Although western Massachusetts was Spalding territory, there were plenty of inexpensive Worthingtons to be found.
It all began in 1904 when inventor George Worthington obtained the rights to produce a rubber core ball from Coburn Haskell, who had patented the concept of winding rubber strips into a ball which was covered with gutta per-cha. The ball known as the "Bounding Billie" would revolutionize the game, just as the solid gutta percha version did in 1848. Worthington wasn't the only company to obtain the rights to produce balls, but they produced the best version at the time. As they say, necessity is the mother of invention, Worthington had to be a bit creative with his product. That was because the A.G. Spalding company's rights included a circular dimple pattern which only they could use.
That did not stop George. He made balls with diamond patterns, pimples in the dimples and a mesh matrix. He also developed his own winding ma-chine that wrapped the rubber strands around a solid core in a more even pattern than any of the other companies who were hand-winding their balls.
Over the next 50 years, the Worthington Golf Ball Company became one of the largest supplier of balls in the world. They were the first to produce a liquid-center ball, first to develop hardness and compression tests, and first to produce a white-covered ball with a one-piece dip process. In 1910, Worthington came out with the "Radio" ball, with a center containing radium particles. No one knew what it did, but because of Madam Curie's work with radium at the time, radium was all the rage. The company was truly innovative, thanks to George. After World War I, he developed the first balata-covered version. For the interior, he would freeze the core before winding, which made the ball harder and tougher. He even x-rayed the balls for trueness.
When World War II broke out, the government sent word out to companies that no more golf balls were to be manufactured for the duration of the war. That did not stop Worthington. He began reprocessing old balls. Had it not been for his efforts, golf may have gone by the wayside. Fortunately, the Surgeon General's Office saw the health benefits of golf and the government offered manufacturers synthetic material, and true to form, Worthington develop a synthetic golf ball that was shipped all over the world wherever servicemen were stationed. After the war, the company continued to thrive and try many new processes and materials, expending considerable research in the ball production.
Unfortunately, the Worthington brand is no longer around today except for those found in golf range baskets or on a golf collector's trade show table. The company was absorbed in 1966 by the Victor Comptometer Company and moved to Illinois. Vic-tor brand morphed into the PGA Company, which eventually became Tommy Armour Golf that now is sold by Dick's Sporting Goods, which acquired it from Sports Authority. Gone but not forgotten by a young lad who came to love a game that required a precious pearl called "Wonderball."
Mike Stevens is the Southeast Region director of the USGTF and golf teaching pro at MacDill Air Force Base in Tampa, Florida. He is the 2005, 2010 and2012 National Hickory champion and the 2004U.S. Golf Teachers Senior champion. He also owns and operates the Mike Stevens on Target Golf School in Tampa.