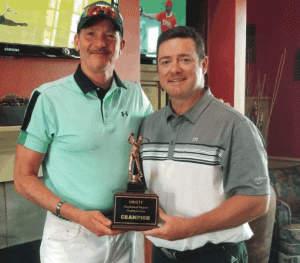 Cole Golden shot an opening round 69 against a strong field that featured several current and past USGTF champions at a windy Ridgeview Ranch Golf Course, which hosted the USGTF Southwest Region Championship May 4-5 in Plano, Texas. Tough, tricky greens and somewhat wet conditions after several days of wet weather had hit Texas earlier in the week greeted the competitors. Southwest Region director Bruce Sims and Master Lee carded 76 the first day, while Brent Davies and Chris Tyner shot 77. Grant Gulych, Jeff Kennedy, and D.B. Merrill came in with 78.
Golden continued his fine play on day two and was never threatened, as only Davies was able to get within three shots on the back nine before Golden responded with a birdie on the next hole. Golden finished with a 69-74 – 143 for a 1-under-par total. Davies finished in second place after shooting 70, which was the low round of the day, for a 147 total. Lee played solidly all day after shooting a fine round of 74 for a 150 total, coming in third place. Canadian Gulych finished in fourth place 78-77 – 155; Texas' Tyner finished in fifth place with 77-80 – 157; Ruben Ramirez finished sixth with 83-75 – 158; Merrill finished seventh with 78-82 – 160, and Jeff Kennedy finished eighth at 161. Thanks goes out to all USGTF players who participated, especially Jim Peters, Craig Johansen, Jaejin Kim, Kevin Kim, Jihun Yang, Scott Lundgren and J.D. Winkle.
Sims also hosted a very nice pre-tournament dinner on Friday night, where there were lots of camaraderie and discussion about our great game. USGTF players came from Kansas, Kentucky, Oklahoma, Michigan, Ontario Canada, and several parts of Texas to play in this fine event.