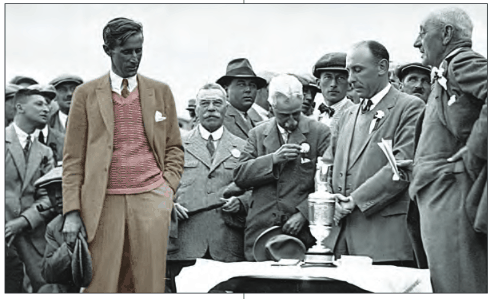 By Mike Stevens USGTF Certified Golf Teaching Professional® Tampa, Florida
One hundred years ago, the PGA Championship was inaugurated at Siwonoy Country Club in Bronxville, New York. Thirty-two players qualified for the tournament at sites around the country. One qualifier, Jack Pirie, failed to arrive, so a blind draw was set up, allowing one player to get a first-round bye.
The PGA Championship began as a match-play tournament. It wasn't until 1958 that it became a stroke-play event. It was quite grueling, requiring 36-hole matches over a five-day period. Jim Barnes, a native of England, defeated Jock Hutchinson on the 36th hole to win the title.
Barnes, known as Long Jim because of his long, booming tee shots, was born in Cornwall, England, on March 8, 1886. Jim was also a very tall six-foot-three, which probably accounted for his length off the tee. He started in golf, as many professionals of the time did, as a caddie. Apparently he was very good, and eventually became an apprentice to professional Fred Whiting at the West Cornwall Golf Club. Like many of the Scottish and English professionals, the expanding golf scene in America resulted in several emigrating to the former colony. Barnes accepted an offer from the Claremont Golf Club in San Francisco in 1906. He remained there for two years before he was lured away to a course in Canada.
During these early years in America, Barnes showed his skill as a player, winning several Northwest Opens. In 1912, he entered his first U.S. Open, coming in 18th. The next year, he came in fourth in the Open won by Francis Quimet that put American golfers on the map as players to be reckoned with. Barnes' popularity began to grow, and he became sought after by several clubs in 1914. He settled at Whitemarsh Country Club in Philadelphia, Pennsylvania.
During the winter months, he toured with Walter Hagen, playing several exhibitions and challenge matches. By 1916, Jim was coming into his own. He won the North and South Open at Pinehurst and the New York Newspaper Open.
He then qualified for the U.S. Open, where he finished third, and then won the Connecticut Open, following that up by easily qualifying for the first PGA Championship sponsored by Rodman Wanamaker, a department store magnate for whom the PGA Championship trophy is named. In the final match, as both players (Barnes and Hutchinson) surveyed their putts, there occurred a dispute over who was away. Hutchinson argued that Barnes should putt first, but Jim disagreed. The match referee was called in to resolve the situation, and after a measurement, Hutchinson was deemed to be first to putt. He missed and Barnes made his for the win.
Barnes moved to different clubs, up north in the summer and in Florida in the winter, while continuing to play some great golf. He would go on to win four major championships: two PGAs, a U.S. Open and the Open Championships, from 1916 to 1925. Jim became the pro at Temple Terrace Golf & Country Club in 1923 and hosted the Florida Open in 1925, which had a sizable purse at the time of $5,000. More than 100 pros from around the country participated in the event won by Leo Diegel. The tournament is commemorated today as the United States Professional Hickory Golf Championship, sponsored by the United States Golf Teachers Federation, and played each February, as was the original event.
Jim Barnes was considered to be a true gentleman golfer. He continued to serve as professional at various clubs in America until 1955, his last stop at North Hempstead CC on Long Island, New York. He was inducted into the PGA Professional Hall of Fame in 1940. He lived to be 80 years old, dying of a heart attack in 1966. He was greatly respected by his peers throughout the professional world.
* Thanks to Peter Gompertz, whose article in Through the Green magazine provided background information on Barnes' career.