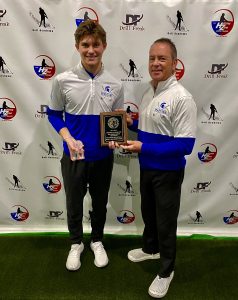 By Scottie McAlarney, USGTF Certified, Torrance, CA
Eddie Kaufman from Throop, Pennsylvania, has been a golf student of mine at my "A Swing for Life" golf academy since the age of eight years old and has just finished his Mid Valley High School golf career this past fall in October of 2022. I have also had the privilege of serving as Eddie's head coach on the golf team, where he earned the Scranton Times All-Regional "Player of the Year" award, recognizing the best player in the northeast part of the state.
Since his early years as a student of mine, he consistently showed progress each and every year from the junior ranks to playing high-level tournament golf. He has never been afraid to make changes to his swing when needed, including a significant one we had worked on right before a major high school championship event that had him finishing with a 5-under par 67 and earning him "athlete of the week" honors in our area.
I have had numerous junior players in my 27-year career, including my son, who still plays in professional events, but no one has done what Eddie has been able to accomplish during his 10-year time frame with me as my student. Eddie will be going on to play golf for Roanoke University in Virginia. Academically, Eddie has a 3.9 GPA, is a member of the National Honor Society, and has achieved many other academic awards.