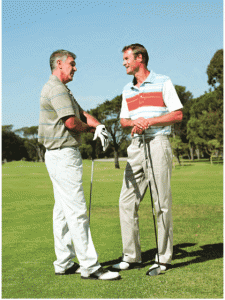 WOW. Double wow. In a move that can literally be described as a game-changer, the USGA and R&A decided this past March 1 that many of the rules by which we play are to be jettisoned, sent to the scrapbook of history. The proposed new rules are to take effect January 1, 2019. Knowledgeable observers say this is the most drastic rules development since the original 13 rules were drawn up in 1744 by the Gentlemen Golfers of Leith, now the Honourable Company of Edinburgh Golfers, at Muirfield in Scotland.
To be sure, the gist of the game will be the same: to play the course as you find it and play the ball as it lies, and if you can't do either, do what's fair. But what constitutes "fair" is the reason we currently have 34 rules and a Decisions book that is several hundred pages long (to be replaced by 24 rules and a "Handbook," respectively). Too many golfers today simply don't understand the intricacies of the rules necessary to compete in formal competition, and that includes professional golfers. Even some rules officials don't get it right at times, and they're paid to not make these types of mistakes.
The proposed changes the USGA and R&A are considering are just that, proposed. They have not been formally adopted, and there is a good chance that not all of them will be implemented. Both organizations are seeking feedback from the golfing public during a six-month comment period, and they have said this feedback will have some influence in deter-mining what gets changed and what stays the same.
To list all of the proposed changes would take literally several pages of the magazine, so this article will not do that. However, some will directly affect everyday play more so than others, so here they are, along with commentary:
NO PENALTY FOR MOVING THE BALLDURING A SEARCH.
Previously, only fellow competitors and opponents were exempt from penalty for moving a player's ball while searching. Now the player himself is exempt if he or his caddie moves it. This is only fair, as by definition the player has no idea exactly where the ball is.
LOST BALL SEARCH REDUCED FROM FIVEMINUTES TO THREE.
For tournaments that have no spectators, this will have a totally different effect than for one which has thousands. Instead, a local rule option allowing searches to be limited to three minutes might be a better course of action and can be implemented by the major tours.
NO PENALTY FOR ACCIDENTALLY MOVINGBALL ON PUTTING GREEN.
Everyone remembers the rules fiasco during the2016 U.S. Open when it was determined that Dustin Johnson caused his ball to move on the putting green, despite the fact he never touched the ball. This new standard goes even further. The problem with this proposed rule is it violates the longstanding principle that the player is not allowed to move the ball except only in accordance with the rules. The USGA and R&A might want to re-think this one, because…
NEW STANDARD FOR DECIDING WHENA PLAYER MOVED HIS BALL.
After the Johnson situation, the USGTF took a position that the rule for what constituted a player moving his ball should be changed from a preponderance of the evidence to it has to be known or virtually certain the player caused the ball to move. The USGA and R&A must have been listening, be-cause that's the proposed new standard. So instead of imposing no penalty for accidentally causing a ball to move on the putting green, this new standard of what constitutes a player moving his ball is more than sufficient to take care of the problem, and would have applied to Johnson.
NO PENALTY FOR BALL HITTING PLAYER, CADDIE, OR EQUIPMENT AFTER MAKINGA STROKE.
The old rule only added injury to insult.
A BALL TO BE DROPPED MAY BE DROPPEDFROM AS LITTLE AS 1" (2.5 CM) ABOVETHE GROUND.
Those of us who are older remember when a player had to face the hole and drop the ball behind us over our shoulder. This was changed several decades ago to dropping from shoulder height and arm's length. Now, all of this has been changed so a player can drop from at least one inch above the vegetation. This change is proposed to lessen the chance a ball bounces and rolls too far, necessitating a re-drop. This is fine, but why one inch? It makes more sense to use the diameter of the ball, 1.68inches (4 ¼ cm), since that can easily be measured more accurately.
DROPS ARE TO BE WITHIN A SPECIFIEDDISTANCE, EITHER 20" OR 80" INSTEADOF CLUBLENGTHS.
According to the USGA website, "Using a fixed measure would be a simple process, with 20 inch and40 inch markings on the shaft of clubs likely to be the primary tool used by players for measuring." If officials at the USGA really believe players are going to put 20-inch and 40-inch markings on their clubs, they need a serious reality check. One club length and two club length drops have worked fine for years. There's no reason to change this.
BALLS DROPPED IN ACCORDANCE WITHTHE RULES MUST REMAIN WITHIN THEDROPPING AREA.
Instead of the old standard of the ball rolling more than two club lengths away, necessitating a re-drop, the ball must now remain within the 20-inchor 80-inch zone. And there is no longer a two-drop maximum; the player can drop as many times as needed unless it becomes obvious the ball will not remain in the zone.
REPAIRING ALMOST ANY DAMAGE ONPUTTING GREEN.
Presently, the player is allowed to only repair ball marks and old hole plugs. Now the player can repair spike marks, etc. This is a good change and long overdue.
BALL HITTING FLAGSTICK AFTER STROKEFROM PUTTING GREEN.
This may be the most drastic visible example of the proposed rules changes. A ball hitting the flagstick while putting will no longer be a penalty, meaning players can putt with the flagstick in the hole from any distance. It will be interesting to see how this one plays out. Dave Pelz's research from years ago suggested the flagstick almost always helps the ball go into the hole. With today's analytics, it may become commonplace for tour players to no longer remove the flagstick while putting.
ELIMINATING WATER HAZARDS; TO BEKNOWN AS "PENALTY AREAS."
Under the current rules, technically only areas that contain water can be marked as water hazards. Now, any area of the course may be marked as such. Although it has always been commonplace for wooded and brush areas to be marked as water hazards, such marking of the course is actually prohibited by the current rules.
TOUCHING AND REMOVAL OF LOOSEIMPEDIMENTS IN PENALTY AREAS ANDBUNKERS NOW ALLOWED.
This is another drastic change from what golfers for centuries have known. In a penalty area, players can now ground their clubs and take practice swings while hitting the ground, although this is still prohibited in bunkers. This is another good rules change and one that will lessen controversy and make things more fair.
For a complete look at all of the proposed rules changes, go to www.USGA.org orwww.RandA.org and click on the rules links. You can also have your say on the proposed changes until the comment period ends August 31, 2017.