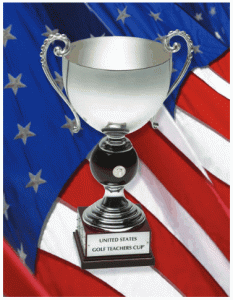 By Mark Harman, USGTF Course Director Ridgeland, South Carolina
It's hard for me to write this article without some of it sounding a little like I'm blowing my own horn, but I assure you that is not my intention. I am writing this to hopefully convince a few more people to enter this year's (and future years') United States Golf Teachers Cup.
I have the privilege of being the only person to have competed in every single one of the previous 23 versions of this event. From St. Augustine, Florida (where it all started), to California, Nevada, Texas, Pennsylvania, Louisiana and other states, I have seen every U.S. Cup played. What I can tell you is that it is not just the highlight of my competitive calendar every year, but it is the highlight of my golf experience every year.
Why is that? I have been fortunate to win the event seven times, so you might say it's obvious why I look forward to it on that account. Yet, that would be untrue. There was a long spell where I never was in contention, and yes, it bugged me, but in the end that really didn't matter. What mattered is every year I got to play with and see some of not only my best friends in golf, but best friends, period. If I start mentioning names, I'm sure to leave someone out that I didn't mean to, so I'll just say that I have yet to meet someone at the U.S. Cup who isn't a friend of mine.
The memories that are also the most enduring are the wonderful courses and cities where we take the Cup. This year's tournament is in Sedona, Arizona, at Oakcreek Country Club. If you haven't been to Oakcreek, you frankly don't know what you've been missing. It's one of the most beautiful courses I've ever played, and I can say that as someone who has played Pebble Beach and have been to the Masters at Augusta National. Oakcreek's stunning views of the incredible red rock formations, along with its well-manicured fairways and greens are just short of the equal of these two icons of American golf. The course itself is extremely fun to play, challenging while not beating you up And speaking of Pebble Beach, every year the AT&T National Pro-Am is played there, where one pro is teamed up with one amateur. This year's U.S. Cup will also feature basically the same format, where a USGTF professional competitor can play with an amateur of his or her choosing. Yes, we will still be competing for individual honors as always, but the Pro-Am is sure to bring a boost of energy to our great national championship event. And if you don't have an amateur partner you can bring, no worries. You can still play without one.
There is always something for every-one. We actually have two tournaments being contested, the U.S. Cup and the United States Senior Golf Teachers Cup for those 50 and over. The Senior Cup also has age divisions of 60-and-over (the Super Senior division) and 70-and-over (the Legends division). We also offer separate prizes for those in the Legends division who shoot the best score in relation to their age.
From the non-competitive aspects point of view, I earlier mentioned great friendships. But what also takes place is the energy of so many like-minded people getting together, the chance to support your organization and its showcase event. Sedona has quite a few off-course activities and tourist attractions, and is quite popular as a tourist destination. I encourage you to enter this tournament early as lodging accommodations are sure to fill up quickly. For those of you who are more budget-minded, we have arranged rates of just $74.99 per night at the Comfort Inn in Camp Verde, which is approximately a 25-minute drive from the course. If you'd like to stay closer in Sedona itself, there are accommodations that can be had for reasonable pricing. As most of you are internet savvy, you can find some good deals that are closer to the course.
We generally have three types of participants at the U.S. Cup: Those who play every year or almost every year; those who play some of the time, and those who play once or rarely. I realize that this is not an inexpensive trip for most of you, and I truly appreciate those who make the time and effort to join us whenever they can, whether it be regular competitors or those who compete sparingly. And I know I speak for other officers of the USGTF when I say that.
Why not join us this year in Sedona? I look forward to seeing you there.