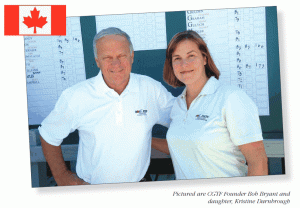 It has been 25 great years growing the game of golf in Canada! Times have changed and so have we. Reflecting back on how our federation grew and competed before the regular use of the internet and social media is astonishing. The administration team of Bob Bryant and Kristine Darnbrough, along with our pioneer members and wonderful facilitators, truly deserve a great "thank you" for their efforts, support and contributions!
Rounds played are up in Canada, and the overall participation has grown over the past few seasons after some difficult economically affected years. Canada boasts the largest percentage of population that plays golf at least once a year worldwide. So, golf in Canada is still pushing forward. The members of the Canadian Golf Teachers Federation are enjoying new opportunities and successes in the industry, thanks to golf facility operators seeking new alternatives to traditional practices. Our members' passions and efforts are helping to re-energize facilities that have been burdened with outdated thinking and elitism that prevents new customers from feeling welcome, let alone encouraged to start.
Canada is very diverse in many ways and so is the CGTF. We have many instructors that communicate using languages beyond English and French. Lately, the CGTF certification schools have been very appealing to international participants to attend. Having a lower-trading Canadian dollar and attainable travel visas make Canada a very attractive destination to pursue a career in teaching golf. We are proud to think that we are now sharing golf in places that have no access to Golf Teachers Federation training locally.
In this 25th year, the top indicator of membership engagement has been the positive response to upgrade courses. Knowing and seeing our members wanting more information to pass along has been a welcome site. We have more Masters-level graduates this year than the past 10 years combined, and we have one more course to follow in August 2019. Golf in Canada is going very well, and the CGTF sends best wishes to all fellow World Golf Teachers Federation members!