USGTF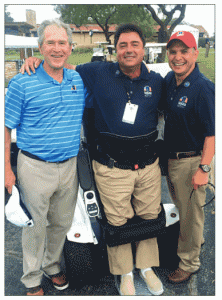 member Anthony Netto lives a more active life than most people, even though he cannot walk, much less run. Netto was on his way to play in a professional golf tournament in his native South Africa in 1994 when his car was hit by a drunk driver, leaving Netto paralyzed from the waist down. And all of this happened just several months after attending a USGTF certification course in the United States.
Netto was a first lieutenant in the South African army and was a veteran of Desert Storm in the early 1990s. After his discharge, he returned to golf and earned his USGTF certification. But the accident put his plans on hold. It is understand-able if Netto felt the normal reactions after such a horrific accident of despair and anger, but if he did, he quickly put them aside and went to work. Attempting to return to the game of golf in a traditional wheelchair, Netto found it too restraining and difficult to play the game in a proper way. He set about inventing a device that would allow him to basically stand while playing, just like able-bodied golfers. Thus, the Paragolfer came about, which rides like a normal wheelchair with the exception that the seat and seatback lift up and puts a person in a standing position.
The Paragolfer was later renamed the Para- mobile because it can be used for more than just golf. Sports like shooting, archery, hunting and fishing are made easier for people from the Para-mobile.
As the Paramobile puts less pressure per square inch on the ground as compared to a normal foot-print, the device lends itself well to golf and doesn't damage the golf course, including the greens. Under the Americans with Disabilities Act, the Paramobile is welcome at facilities all across the country.
Netto travels the United States these days, promoting the Paramobile and seeking funding for those in need to buy them through his Stand Up And Play Foundation. Manufactured by the German company Ottobock, the Paramobile is available for a purchase price of $22,500.
The Invictus Games, which brings together veterans from 17 countries who compete in adaptive sports, will feature golf for the first time in 2017 in Toronto, Canada. Netto is proud that the Paramobile will be used in order to allow some of the golfers to compete.
Netto has also met former U.S. presidents George W. Bush and Barack Obama, the latter while he was still in office. Obama, an avid golfer himself, took an interest in Netto and the Para- mobile.
In regard to Bush, Netto met him several years ago at the 4th annual Warrior Open, where Netto smashed a drive 270 yards down the middle of the fairway. He still drives the ball farther and plays the game better than most able-bodied golfers, a testament to his grit and determination.
Netto is currently based out of Las Vegas, Nevada, and travels to support and promote the Stand Up And Play Foundation. The fundraising road has been a difficult one, but Netto has succeeded in getting a number of Paramobiles into circulation for use by those who are paralyzed.