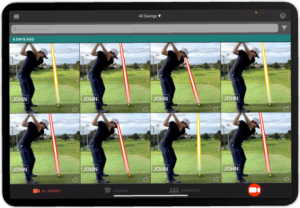 Swing Profile golf analyzer is releasing a major update V11 and it comes with an automatic ball tracker (at no extra charge)! While recording golf swings with "Auto Capture", ball tracker instantly draws trajectories, providing coaches valuable visuals for:
1.) identifying the odd shots
2.) correlating swing techniques with ball flights
Moreover, Swing Profile V11 has been rebuilt on a new cloud server for faster backup and video sending to students.
V11 is scheduled to be released on 12 May. For the month of May and June 2023, we are offering 50% off Swing Profile "Coach" version, as well as 50% off our new golf putt training app "Putt Profile" (www.puttprofile.com). Download apps and try now! For more information, please contact info@swingprofile.com.
Features of Swing Profile golf app for coaches include:
* PGA Show award-winning "Auto Capture" and "Auto Replay" technology for golf analysis and self-training.
* Real-time ball tracker for instant ball trajectories tracking.
* "Student Lockers" system for organizing student videos into their own separate folders for easy retrieval.
* Brand new golf coach directory to expose your coaching business to hundred-thousands of Swing Profile users.
* Automatic video backup to secure cloud storage and video synchronization across devices.
* Fast and easy video exchange with students. Receive videos on both Swing Profile app and on email.
* Simplified online video analysis workflow. Easily receive video from student, analyze with voiceover, and send back the voiceover video.