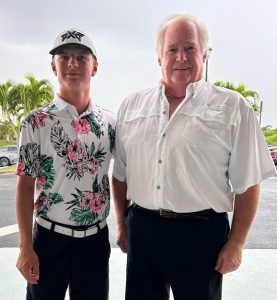 He's only been playing golf for three years, but Reese Woodbury from Stuart, Florida, has legitimate Division I college golf aspirations. Already an accomplished golfer, Reese has won four out of the eight tournaments he's entered this year on the Hurricane Junior Golf Tour, including the very first one he played. Oh, and by the way, he's also shot a personal best of 63…already!
After a basketball injury, Reese looked for a sport where he could compete and be successful. He was drawn to the game, in part, because his father Michael had played a lot of golf. Reese cites the "cool atmosphere" of the game that he sees on television as one allure, along with the individual aspect to the game, in contrast with his former sport.
USGTF Master Golf Teaching Professional Jerry Ellstrom serves as Reese's coach, and said, "I love his focus and confidence in his abilities. He's willing to stay with it in terms of the different challenges of the game." Showing the depth of affection between the two, Ellstrom teases him by calling him "Stump," because Reese likes to try to take his ball over the trees of doglegs and inevitably his ball winds up next to a stump.
Reese said the strength of his game is from tee to green, and although you can't shoot the scores he does by being a mediocre putter, he said there's always room for improvement in that area. Reese also commented, "I want to thank my dad for all the time and energy he's put into allowing me to follow my dreams and hopes, and to allow me to practice at the finest facilities." Reese's dream school is Arizona State University, where he cited the program's history and the allure of the Phoenix area. Keep an eye out for this young man, because it's certain you'll hear his name again soon.