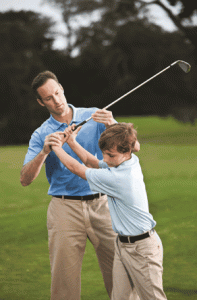 By Jordan Fuller USGTF Contributing Writer, Omaha, Nebraska
It's important to the growth and continued success of golf to introduce children to the game in a way that allows them to enjoy it and succeed quickly. Golf can be a very difficult game to learn at any age, but kids are actually uniquely suited to understand and develop good swing habits. So, it's incredibly important to make sure they're having fun while learning the building blocks that will translate into a lifetime of fun and success on the golf course.
Here are a few tactics to make sure your junior clinics keep everyone entertained while teaching them important golf lessons!
Putting contests
The classic putting contest is still one of the best ways to foster friendly competition and teach kids the importance of getting the ball close to the hole on their first putts. However, a traditional method of simply pitting children head-to-head is best reserved for the last day of a clinic. Prior to that, the contests should be more individually focused, so kids can set a baseline of performance and improve on it through the week.
I like to use large rings to create a 2-3 foot circle around the hole, and set up "tees" for them to start from. You can also use strings on tees to guide them around the putting green on a specific "course."
They'll receive a point for getting the first putt inside the big circle, then three more points for making their second putt. If they actually hole the first putt, they get ten points. If they take three putts, they'll get a single additional point. This scoring system where they accumulate points is easier to explain than trying to have them make a "par" of two or three on each hole. It also gives them a high number to shoot for the next time, and drives them to try the course again and again to achieve more points.
It's also important to reward each child for their performance. While you can have a cool prize for the single highest point total, you can also give a reward (maybe a sleeve of balls or a towel) for improving their score, or making the most one-putts.
While "everyone gets a trophy" is often ridiculed, golf is a game that most of us play for fun. Sure, some of the kids may grow up to be tournament winners, but for most of them you're trying to develop a lifelong love affair with the game. It's important to reward improvement as much as achievement.
Individual instruction
When demonstrating a basic skill, such as a bump-and-run chip, it's tempting to simply explain it and demonstrate it a few times before letting the kids loose to try it themselves. But while they're out there working on it, take a few minutes with each child individually to lightly direct and heavily praise the job they're doing.
With very young kids, too much technical input will just muddy the issue; it's best to give them minimal direction (just enough to make sure they're making half-decent contact) and praise their good instincts. For older kids (8 and up), you can start drilling down on fundamentals (such as how to hit the ball properly) to make sure they're not developing any bad habits that will take years to undo.
This extra level of individual instruction and praise is what the kids will tell their parents about: "Coach Jones helped me with my chipping grip, and I won this sleeve of balls when I chipped one into the hole!" is much better feedback than "Billy and I got to play a lot of Fortnite." One-on-one time is key to keeping kids engaged and letting their parents know that you're really interested in developing their kids' skills.
Once kids have been to a few clinics and are ready to hit the links, the PGA Junior League has great programs for innovative competitions and tournaments that appeal to particular ages and skill levels. Rather than sticking to traditional 18-hole stroke play formats, PGA Junior League tournaments have different scoring systems and are played on fewer holes. Kids learn about golf, but also teamwork and self-reliance. It's a great program to move them from beginner clinics to championship golf.