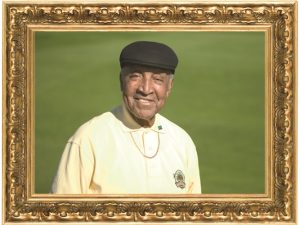 He came to a USGTF certification course in January 1993 in Naples, Florida. It wasn't long before he captivated everyone with his demeanor: confident yet humble, quiet yet with plenty to say, and dignified yet playful.
"He" was the late Julius Richardson, whose legacy lives on in the thousands of students he's taught over the years. Richardson was named the USGTF's Teacher of the 20th Century. He also is a member of the USGTF Hall of Fame and the African-American Golfers Hall of Fame, and was part of the USGTF's first Master Golf Teaching Professional class in 1995. He is also the first – and so far only – African-American to be named to Golf Magazine's Top 100 Teachers list.
Born in 1921, Richardson enlisted in the U.S. Army during World War II and learned to play golf while in the service. When the war ended, Richardson entered a number of military tournaments, winning many of them. He earned the nickname "Sprinkler Head" because of his unerring accuracy with the driver, reflective of a time when sprinklers were in a single row down the middle of the fairway.
Because the PGA had a Caucasians-only clause in its constitution until 1961, Richardson was unable to join that organization. But it didn't stop him from teaching as a sideline while he forged a career as an insurance agent. Upon retiring in 1986, he moved to Chicago, Illinois, and began to give lessons there.
Richardson's teaching style was reminiscent of Harvey Penick's in that he did not impart a whole lot of technical advice. But don't be fooled: Richardson knew the mechanics of the swing as well as anyone and he could speak in-depth on the most intricate areas of the swing. Then touring professional Eric Booker was a student of Richardson's, and Booker had previously had instruction from David Leadbetter and Ken Venturi. Booker wrote a letter of praise about Richardson, saying he was the equal to those two teaching greats.
What made Richardson's approach unique is that beginning golfers never hit a ball for the first four lessons they took with him. He showed them the fundamentals of a proper setup, and made sure his students put their hands on the grip correctly. He then had his students go through a whole program which consisted of making movements which mimicked the proper golf swing. (Think of the movie The Karate Kid, where Mr. Miyagi had Daniel execute a series of chores with specific motions that seemingly had nothing to do with karate, but in the end had everything to do with  that discipline.)
After those first four lessons, only then would Richardson allow his students to hit a golf ball. Now some would question this teaching approach, and certainly it wasn't for everyone. But Richardson was adamant that this was the best way to learn to play golf as correctly as possible, likening it to the way he was taught skills in the Army. He outlined his approach in his book Better Golf: A Skill Building Approach. While the book is out of print, it is readily available on the internet and it is a highly worthwhile read.
Although Richardson was successful teaching golf prior to 1993, after he earned his USGTF certification was when his career really took off. In addition to getting his instruction book published and being named to the Golf Magazine Top 100 Teachers list, Richardson appeared on Golf Channel's Golf Academy Live in 2001 with host Peter Kessler. Richardson was able to present his teaching approach to a live national television audience, and his appearance drew much positive feedback. Also, as the result of his ascending career, Richardson was asked to teach at the prestigious Pine Meadow Golf Club outside Chicago. The club is owned by the famous Jemsek golf family and featured a stable of top teachers. Richardson fit right in and soon earned a loyal following.
Richardson had a keen eye and seemed to be able to diagnose any golfer's problem quickly. He wintered in Florida and often could be seen at USGTF certification courses held in the winter there. He once observed a struggling female golfer on the range and went over to see if she could use some help. After Richardson advised her to loosen up her shoulders, the lady immediately started hitting solid shot after solid shot. The lady was thrilled beyond belief. In the tech-laden world of golf instruction, Richardson's simple advice worked wonders and left onlookers in awe of his teaching prowess.
He eventually began slowing down and learned that he had throat cancer, a disease that would take his life in 2007. If there is any testament to the greatness that is the American dream, Richardson certainly personified it.