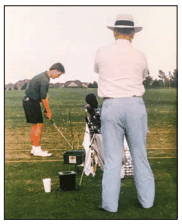 By Thomas T Wartelle, USGTF Master Golf Teaching Professional Washington, Louisiana
I was a kid who loved sports and the outdoors. For me, every season had a sport assigned. Baseball gloves that were soft from use in the summer became cold in the winter. Basketballs were worn out in the winter, but hardly moved in July. Sports and the outdoors were a way of life. If I wasn't playing some game, I was trekking in the forest.
Although I played every sport offered in our area, I was always drawn to individual games like tennis. I was also a huge John McEnroe fan, mostly because he was left-handed. After baseball season was finished, my morning summer routine was to wake up as early as possible. I would eat breakfast on the fly. Then, I would ride my bike to the public park a few miles away. I would literally play tennis from sunrise to sunset. Most of this time was spent on the cracked courts at the park creating tennis mischief with my best friend Bo. He would later become influential in my golf life, and he even caddied for me on several tours around the world.
My life changed dramatically one day. I saw the shimmer of a silver shaft in the trash can near the gate. I was hoping it was some tennis-related treasure. A few months earlier in that same trash can, I found a wooden Wilson Jack Kramer tennis racquet that just needed a new grip. I was anxious to discover this day's new find. To my surprise, it was not a tennis racquet this time. It was a golf club with the shaft broken 3/4 of the way up. What a score!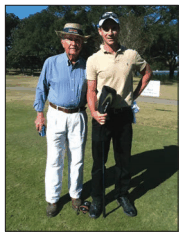 When I got home, I wrapped duct tape on the end and formed a grip. The neighbor had a few old balls in his storeroom. I took a few swings and was instantly hooked. There was one minor issue: I was left-handed and this club was for a righty. Oh well, at least it was free!
I started carrying that little five-iron everywhere, even to school. I would sneak away at recess to hit balls in the field behind the gym. I think the coach must have said something to Pop, because he asked me about it. Pop said that I needed a proper set. We drove to JCPenney and he bought me a set of Northwestern golf clubs. It was a full set, including a bag. He probably didn't spend more than $100 for the lot. But I was so proud of that set of golf clubs. It was "high cotton" for this kid who grew up in rural Louisiana.
I decided to join my school's golf team. During the tryouts, I shot 68 for nine holes! The coach told me I was not a golfer and to go back to baseball and tennis. A little over a year later, I was a scratch golfer. That coach sure welcomed me back with open arms.
One day, Pop decided that driving 20 miles to the public golf course was too far. He brought me down to the local private country club. Even though it was a basic small town goat ranch, one would have thought it was Augusta National. The members thought highly of themselves and the club, as well. I was an outsider around the affluent kids with their Hogan Apex irons. My homemade swing and cheap golf clubs would soon conquer their terrain.
In those days there were still a few caddies, and there were plenty of odd jobs for a 14-year-old kid to do. I occasionally caddied, picked up range balls, and became head cart boy and shoeshine expert. Along the way, I hit a lot of balls and played every chance I could get. I read every golf book at the public library twice. I wore the pages out of the books Golf with Tony Jacklin and Ben Hogan's Five Lessons. My golf journey had begun.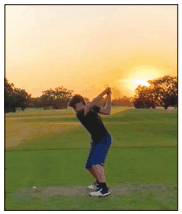 My Pop was truly a special man and one of a kind. Pop liked to let you figure things out on your own. He guided and mentored, but never dictated. His sense of humor was amazing. Most of all, he was always passively supportive. When I finished my last final exam in college, I told Pop that I was going to turn pro and fly over to Europe to play the European Tour. He told me to follow my dreams. I didn't even go to my college graduation. I turned pro the next day and drove to Florida to play mini-tour events until my venture to Europe that autumn. For the next 30 years, the game of golf took me to over 40 countries playing and teaching with some of the most influential people in my life. Pop gave me that gift with a cheap set of golf clubs from JCPenney. What an investment he had made!
Fast forward 30 years: spring turns to summer; summer turns to fall; fall turns to winter. Pop passed away late this summer. He was 90 years old. Pop had a good run and a colorful life. He was a cowboy as a kid; always had a great story, served his country, drank beer with Hank Williams, the country-and-western legend; raised six children and was married 60-plus years. He was a revered local legend in the community. Pop was the best of men. He was like the sun to me, always shining, even in his last days. His youngest son decided to pursue a passion. Pop always encouraged this pursuit. I am proud to be a professional golfer. Although Pop didn't really play the game, he gave it to me as a lifetime gift.
With Pop gone, I now look at my own 14-year old son in a different light. I try to mentor my son the same way Pop taught me. It is funny; when I see my son from afar, I see my Pop's mannerisms. There is definitely a genetic component at work. He inherited many of Pop's qualities. My son loves the game of golf and works really hard. He even plays left-handed, mirroring his father's right-handed swing. This boy (young man) has new dreams and aspirations. He will have to follow his own path in life. I will be there to caddy and to occasionally suggest the right shot. However, I have no doubt that he will follow the sun.