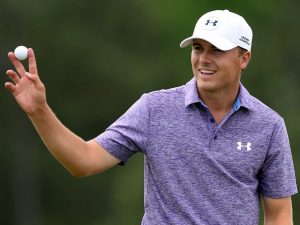 He became the youngest winner on the PGA Tour in 82 years when he won the John Deere Classic in 2013, and quickly captured three major titles the next four years. Sustained stardom seemed certain for Jordan Spieth, but after winning The Open in 2017, he entered a slump that only now is he seeing signs that it may be behind him.
Spieth first captured the attention of the golf world in 2013 when, as a 16-year-old, he contended in the Byron Nelson Championship in his hometown of Dallas, Texas. He played at the University of Texas for one year before turning pro. Interestingly, he failed to get through the second stage of Q-School and had no status coming into 2013. Relying on sponsor's exemptions, he played in several events until his breakthrough victory.
It has been speculated that Spieth and his teacher, Cameron McCormick, started a program to seek more distance, which led to Spieth's prolonged slump. At the end of 2020, Spieth sought out the counsel of noted teacher Butch Harmon, and the meeting has paid dividends as Spieth scored two top-10 finishes in February. There's an old saying, "Talent never leaves you." Spieth is still young and undoubtedly will return to prominence soon.