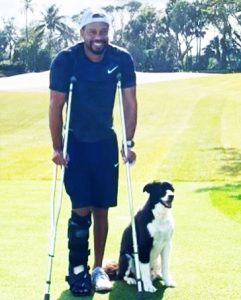 Tiger Woods survived a harrowing one-car accident in southern California on February 23, resulting in multiple fractures to his right leg and ankle. After surgery, Woods began the long rehab process with the single-minded focus that has been a staple of his career.
Outside of a few tweets on Twitter, Woods has been relatively silent regarding his progress, but in a recent interview with Golf Digest, Woods remarked that "this was more painful than anything I've ever experienced." He posted a photo of himself on crutches and in a walking boot, but recently 10-year-old Luna Perrone posted a photo of herself with Woods, where the latter was seen without his walking boot. Woods has also been in contact with a number of touring professionals.
He gave no indication of whether he expects to play golf again, just saying that he is focusing on walking at the moment.